The Calgary Dance Stampede is proud to be a Country Two Step Tour Member Event for 2015 !!

The Country Two Step Tour is a Jack-and-Jill contest where Male and Female participants are randomly paired and compete for national points and cash & prizes. This is a social contest that is open to everyone ... all shapes and sizes and all skill levels.

In case you were wondering …

What Is a Jack-and-Jill Contest?
In a Jack-and-Jill contest, male and female participants within a given age or skill level division are randomly paired. The couples then dance against one another and their performances are scored by a knowledgeable panel of judges. Quite often, the leader and follower don't even know each other. Based on the results of the contest, the top performers are awarded cash and/or other prizes.
What Does it Cost?
You can register in 2 easy ways;
On-Line by clicking on this link, downloading and printing the form and sending it back to us.
On-Site at the event. When you arrive at the event the Event Registration desk personnel will be happy to help you.
Cost to dance is only $15 per person ... NO PARTNER REQUIRED. There are no membership fees or annual dues. A $1 administrative fee will be paid to the CTST for each competitor participating in the primary divisions of CTST contests, that dollar will be paid by the member events, not by the participants.
How Will I Benefit?
When you dance in a sanctioned CTST Jack-and-Jill contest, you can earn award points that will be tracked by the CTST. When you have earned enough points, you will "graduate" to the next higher skill level. By continuing to participate in these types of contests, whether you are consistently among the top performers or not, you will naturally improve your dancing skills and knowledge along the way…that's in addition to meeting plenty of new people, traveling, and having a great time.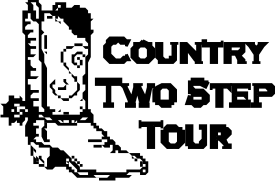 See and read more about the
Coutry Two Step Tour by clicking here